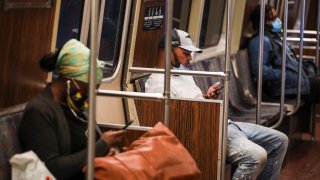 Commuters could face a $300 fine for not wearing a mask, MBTA officials announced Friday.
The new enforcement efforts, effective immediately, came in response to new, more stringent statewide coronavirus restrictions issued by Gov. Charlie Baker. Among other measures, the updated face covering order requires everyone over the age of 5 to wear a mask in public.
Baker's revised executive order gives Transit Police the authority to enforce the order onboard MBTA vehicles and within the system by issuing fines up to $300 per violation.
Our redesigned local news and weather app is live! Download it for iOS or Android — and sign up for alerts.
The MBTA issued an internal memo to its employees about the new policies.
Workers will remind customers who aren't wearing a face covering of the requirement first. If they don't comply immediately, employees will reported the violation to the Operations Control Center, who will coordinate with Transit Police.
The mandate exempts people who cannot wear masks due to medical conditions but does not require people to present proof of their condition.