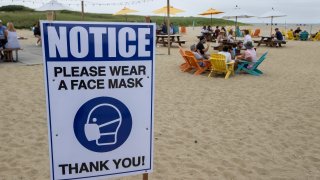 A spike of COVID-19 cases on Nantucket is being driven by tradespeople working in construction, landscaping, and other trades who are sharing transportation to job sites, according to officials from the town and Nantucket Cottage Hospital.
Fourteen new confirmed cases were reported Wednesday and Thursday, for a total of 77 cases in the town, Select Board Chair Dawn Hill Holdgate said in a statement Friday.
Of the new cases, a dozen were among Nantucket residents, and most of those residents worked in the trades, Roberto Santamaria, the town's health and human services director, and Gary Shaw, the hospital's president, said in a statement.
The Select Board and Board of Health has scheduled an emergency meeting Monday to consider placing restrictions on some trades, Holdgate said.
Saturday, the Massachusetts Department of Public Health reported 435 new coronavirus cases and 16 additional deaths. There have now been 8,987 confirmed deaths and 122,637 cases.
Copyright AP - Associated Press