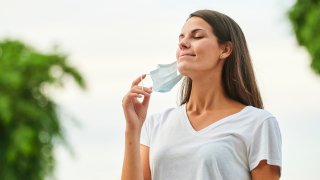 With COVID-19 cases in New Hampshire continuing to decline, state officials eased mask guidelines on Thursday, recommending that anyone not showing symptoms of the virus can go without wearing masks in most indoor and outdoor locations.
Dr. Benjamin Chan, state epidemiologist, said at the state's weekly news conference that people who are immunocompromised should continue to wear a mask when they are out in public and around others. He said people should still follow requirements set by businesses to wear masks and at health care facilities and public transportation.
He also said it's recommended that people who are at increased risk of getting infected and spreading the virus wear masks indoors when its crowded and when they can't maintain distancing.
The statewide mask mandate implemented in November 2020 expired on April 16.
Beth Daly, chief of the state's Bureau of Infectious Disease Control, said the state will no longer require people to quarantine if they've had contact with someone with COVID-19 outside of the home. She said quarantine would still be required for people who live in the same household as a person with the virus.
Daly said contact tracing will no longer be done for exposures in community settings. The state will still investigate suspected outbreaks.
"The fact that we are not performing contact tracing for potential community exposure does not mean that the risk of COVID-19 has been eliminated; it is a recognition of the fact that over half the New Hampshire population has been fully vaccinated at this point and our transmission is still low in our communities," she said.
About $2 million in coronavirus relief aid is going to scholarships for qualifying students at or below the federal poverty level or with a disability, New Hampshire Commissioner of Education Frank Edelblut said Thursday.
"Some students thrived in pandemic learning, especially through strong home supports and the exercise of greater individual agency in their own education. Other students had difficulty accessing their education, often because of a lack of appropriate resources or an instructional model that was not conducive to their learning needs," Edelblut said in a statement.
The YES! program will award scholarships ranging from $1,000 to $5,000.
More than 99,000 people have tested positive for the virus in New Hampshire, including 30 cases announced Thursday. Two new deaths were announced, bringing the total at 1,366.
The seven-day rolling average of daily new cases in New Hampshire decreased over the past two weeks, going from 46 new cases per day on June 1 to 29 new cases per day on Tuesday.
Associated Press