Black and Latino children from low-income families are much more likely to be learning entirely remotely than white and Asian children from families in a similar economic situation, according to a new survey of Massachusetts parents.
But parents across demographics gave hybrid learning the worst marks of the available options during the coronavirus pandemic, according to the survey by the MassINC Polling Group, in collaboration with The Education Trust and sponsored by the Barr Foundation.
It's set for release on Thursday but was shared early with NBC10 Boston, NECN and Telemundo Nueva Inglaterra. The education survey is the second wave of a yearlong project tracking the experiences of more than 1,500 K-12 parents; it started in May and will continue through the spring.
Stay informed about local news and weather. Get the NBC10 Boston app for iOS or Android and pick your alerts.
It's coming out as coronavirus rates are spiking in Massachusetts and schools continue to adapt. On Wednesday, Elementary and Secondary Education Commissioner Jeffrey Riley announced a rapid COVID-19 testing program for Massachusetts public schools set to launch next month.
Overall, surveyed parents were much more likely to see 2020 as having negative impacts than positive on their children's academic learning, mental and emotional health and social life. Nevertheless, 57% of parents said they thought their school was doing its best, compared to 41% who didn't.
"They were definitely better prepared this time around, compared to spring. I don't think the kids were learning anything from the spring," said Natasha Richards, a parent from Boston who was part of the survey.
Other top findings:
Only roughly 1 in 10 parents said their children were learning in-person only. There were equal numbers of parents with children learning only remote and in a hybrid school, according to the survey.
The top factor for parents when considering whether to have their children learning in person, remotely or hybrid was their children's health and safety, chosen by half of parents, according to the survey. It's followed by academic and learning opportunities, chosen by 38% of parents.
About 15% of parents said they'd put their children in learning pods, with little difference across racial groups or income levels.
More parents thought their children were falling behind than did in May, when the survey was first conducted. That change holds across demographics, but was highest among parents with students in hybrid learning.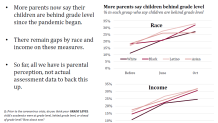 The socioeconomic disparity among which students were learning remotely was one of the major takeaways of the groups behind the survey.
Eighty percent of Latino families and 73% of Black families that make under $75,000 reported children learning remotely, the survey found. That's compared to 49% of white children and 62% of Asian children from families in the same economic circumstances.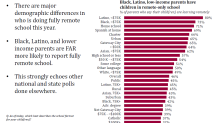 It was a different story on the other end of the economic spectrum, among families making more than $75,000. Only about a third of children from white families in that group were in schools with entirely remote learning, according to the survey. And fewer than half of children from Black (42%), Asian (43%) and Latino (45%) families in the group were doing entirely remote classes.
That data shows that racial and socioeconomic gaps that existed prior to the coronavirus pandemic are widening, according to Mariel Novas, assistant director of partnerships and engagement at the Education Trust. She's imploring school districts to focus their energy and resources on improving the remote learning experience.
"We really have to focus on things like access to live instruction, we really have to focus on access to technology," Novas said.
But remote learning got better ratings from surveyed parents than did hybrid learning, in which students spend part of their week learning from home and part of it in school.
"Across race groupings, across income groupings and on a number of other demographic factors, hybrid was consistently not seen as positively as remote schooling was," said Steve Koczela, president of the MassINC Polling Group, noting that national surveys have had similar findings.
Novas said that it comes down to one simple observation by parents that school districts should be paying more attention to as they continue adjusting learning models: "Too many decisions were made in the absence of listening to families' challenges, demands, wishes, concerns."
The survey was conducted from Oct. 16-Nov. 1 over the phone and online in English and Spanish. Its authors cautioned that the results of the survey reflect parents' perceptions and expectations, not how children did in school.