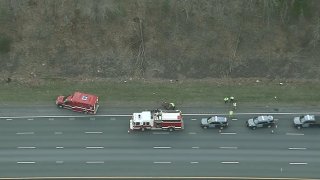 A Peabody man is dead after crashing a motorcycle Wednesday on Interstate 95 in Newbury, Massachusetts.
State police responded to the crash around 6:15 p.m. on the southbound side of the highway.
When emergency crews arrived, they found 53-year-old Yanni Stasinos seriously injured. They attempted to save him, but he died from his injuries at the scene, police said.
No other vehicles were involved in the crash, and Stasinos was the only person on the motorcycle.
The cause of the crash is under investigation.
Lanes were closed for about two hours after the crash.