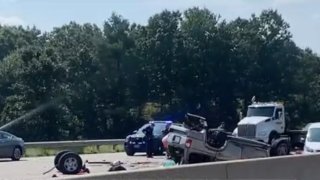 A person police initially said was killed in a crash Friday in Needham, Massachusetts, is alive and in critical condition.
The two-vehicle crash took place on Interstate 95 around noon. Massachusetts State Police said Friday afternoon that a 29-year-old Norwood man had been taken to Beth Israel Medical Center in Boston, where he was pronounced dead.
State police later said around 7:30 p.m. that the man was, in fact, still alive.
State police responded to the crash around 12 p.m. Their investigation showed that a 2001 Toyota 4Runner driving on I-95 in Needham came into contact with a Ford Transit van in the area of Great Plain Avenue and rolled over, ejecting the operator of the Toyota.
The crash remains under investigation by state police.
I-95 was partially closed for a time, with traffic able to pass in the right lane only. It has since reopened.
No further information on the crash was immediately available.