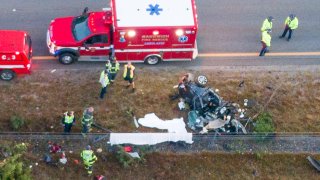 One person was killed in a rollover crash in Sandwich, Massachusetts, on Friday morning, state police said.
The single-vehicle crash occurred on Route 6 west around 5:50 a.m. just prior to Exit 59.
A preliminary investigation showed the vehicle went off the road and into the median, hitting a tree and then the wire guardrail before rolling over.
The driver, an 18-year-old from Sandwich, was declared dead at the scene. State police identified him later Friday night as Andrew Degan.
The crash resulted in the closure of the left travel lanes eastbound and westbound. The scene was cleared shortly after 9:30 a.m., state police said.
The crash remains under investigation.