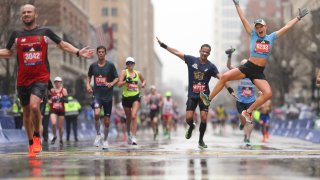 The Boston Athletic Association announced on Wednesday they have raised the highest amount of funds for non-profit organizations in the history of the Marathon.
The $40.2 million surpassed the previous record of $38.7 million from 2019.
Since the 1989 Boston Marathon, the B.A.A. Official Charity Program and John Hancock Non-Profit Program have raised over half a billion dollars for non-profit-organizations.
"More than 200 charities and non-profit organizations will benefit thanks to the efforts of our fundraising participants." said Nicole Juri, B.A.A. Director of Development.
For more details you can access the Boston Marathon's fundraising page here.
"Thank you to every runner, volunteer, donor, and non-profit partner who contributed to these record-setting results. It's an honor to have helped build a legacy of impact, and we are proud of our collective efforts to help make lives better for those served by our community partners." said Tom Crohan, VP & Counsel, Global Head of Community Investment at John Hancock and Manulife.