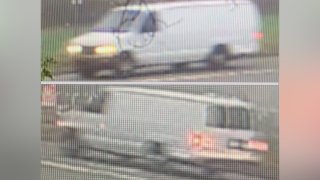 A 13-year-old boy was critically hurt in a hit-and-run crash in Hadley, Massachusetts Tuesday morning, according to the Northwestern District Attorney's Office.
The DA's office said the boy was trying to cross Route 9 at a crosswalk near the Hampshire Juvenile Court Building around 7:30 a.m. when he was hit. He was rushed to Baystate Medical Center in Springfield where he is in critical condition.
Investigators believe the vehicle involved is a white van, possibly a 2004 Ford Econoline model, with damage to its front right and/or passenger sides. Surveillance footage show the van just before the crash.
The van was driving east on Route 9 from Amherst before the crash.
Anyone with any information is asked to call the Hadley Police Department at 413-584-0883.