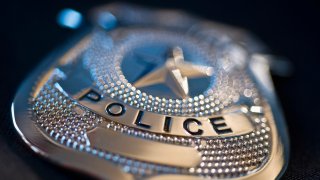 Massachusetts' new POST Commission, a major part of police reform in the state, on Tuesday released the names of the first law enforcement officers it has suspended.
The Peace Officer Standards and Training Commission, established as part of a reform bill enacted in the wake of George Floyd's death, has been reviewing the training and backgrounds of thousands of officers across the state to determine if they could continue to wear the badge. 
The suspensions were prompted by accusations the officer was charged with a felony, according to Enrique Zuniga, the commission's executive director.
"POST will suspend the certification of an officer who is arrested, charged or indicted of a felony and will revoke the certification of an officer who is convicted of a felony. The list of suspended officers will be updated periodically as these cases evolve and/or get resolved," Zuniga said in a statement.
The suspended officers have the right to request a hearing to have their suspension appealed.
The names and departmental affiliations of the suspended officers are:
Devon Bones, Holyoke Police Department
Bryan Custadio, Fall River Police Department
Leon Davis, Springfield Police Department
Ernest Fontaine, Fitchburg State University Police Department
David Forte, Needham Police Department
Kevin Garneau, Lowell Police Department
Nicholas Hoar, Fall River Police Department
Tomas Morales, Woburn Police Department
Keith O'Donnell, Somerville Police Department
Brian Pomeroy, West Springfield Police Department
Joseph Ponzo, Stoneham Police Department
James Quilty, Natick Police Department
Kevin Rooney, Watertown Police Department
Matthew Sheehan, Massachusetts State Police
Colby Turner, Worcester Police Department
Last month, the POST Commission released a public database of recertified officers
More on the POST Commission and police reform