A 15-year-old boy has been arrested in the stabbing of another teenager at the Cape Cod Mall in Hyannis, Massachusetts, on Monday, police said.
And the 17-year-old who was stabbed is expected to fully recover from his injuries, Barnstable police said Monday in announcing the arrest.
The suspected attacker was held on $5,000 bail ahead of an arraignment hearing at Barnstable Juvenile Court, according to police. They didn't name the child.
Barnstable police were called to the shopping center on Iyannough Road around 4 p.m. Monday, officials have said, and found the 17-year-old with multiple stab wounds in his upper torso. He was flown by medical helicopter to Hasbro Children's Hospital in Providence, Rhode Island.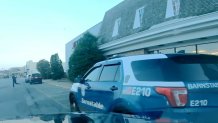 Police have said the stabbing was the result of an argument between the victim and suspect and did not appear to be random.
Video from the scene showed police cruisers parked near the Macy's at the mall, with officers standing on the sidewalk. Police haven't said where exactly the stabbing occurred at the mall.
Local
In-depth news coverage of the Greater Boston Area.
The Cape Cod Mall markets itself as the Cape and Islands only indoor, regional shopping center, that is anchored by Target, Macy's, Dick's Sporting Goods, and Barnes & Noble. It's home to over 60 shops and eateries, as well as a Regal Cinemas 12 theater megaplex and Planet Fitness. The shopping center, managed by Simon Property Group, is located off of Routes 132 and 28 in the heart of the Hyannis retail shopping district.