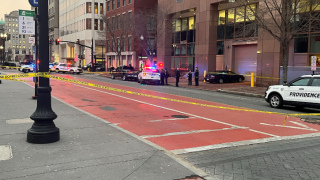 A teenager was stabbed in at Kennedy Plaza Tuesday, a bustling area on Providence, Rhode Island's downtown area, according to NBC affiliate WJAR.
The 16-year-old boy was stabbed multiple times — in the head, back and arm, WJAR reported, citing police.
He went into surgery at around 5 p.m., and was in stable condition.
The boy is a student at Hope High School.
Police said a person of interest was detained, but charges had not been filed.