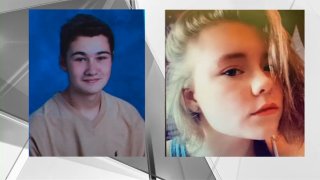 Police say two New Hampshire teenagers reported missing by their families have been found safe.
Sixteen-year-old Devin Pelletier, of Hampton, and 15-year-old Morgan Desreuisseau, of Seabrook, were found safe Friday morning, Hampton police shared on Twitter.
Pelletier had been reported missing around 8:30 a.m. Thursday to the Hampton Police Department and was believed to be with Desreuisseau, who was reported missing to the Seabrook Police Department.
Officials said they had received credible reports that the pair was spotted in the South Hampton area and the Merrimack Valley area.
Hampton police thanked Seabrook and Haverhill police for their assistance in locating the teens, and they also thanked the public for their vigilance.
During their search, police did not give physical descriptions of Pelletier or Desreuisseau, but they released a photo of each teen.
Pelletier had last been seen wearing a red sweatshirt and jeans with black jump boots and a black backpack, according to authorities.
Local
In-depth news coverage of the Greater Boston Area.
No clothing description was given for Desreuisseau, but police said she may be carrying a zebra and cheetah pattern backpack.
Officials said additional information suggested Pelletier had a tent and small blanket, and that the teens may be using a bike for transportation.
Hampton police said there was a concern for both teens given the extremely cold temperatures and their lack of proper supplies.