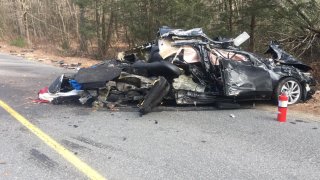 ​An 18-year-old was taken by medical helicopter to a local hospital on Sunday after he was thrown from his car during a crash in Holland, Massachusetts, that closed the roadway for almost five hours.
The Holland Police Department says it responded to the single car crash on Sturbridge Road just after 11:15 a.m. and found the driver had been ejected from the vehicle. He was conscious when police arrived and flown to a hospital in Worcester. At last check, police said the man was in stable condition and he's expected to survive.
No one else was inside the car that crashed, and no other vehicles were involved.
Police did not say if the driver was wearing a seatbelt. His name has not been released.
Photos from the scene shared by Holland police show the car suffered extensive damage, with the windshield gone, a sun visor hanging outside, and a rear seat laying in the roadway.
A section of Sturbridge Road was closed for several hours following the crash, with traffic detours in place until 4 p.m.
There was no immediate word on what caused the wreck. An investigation into the crash is ongoing by state and local police.