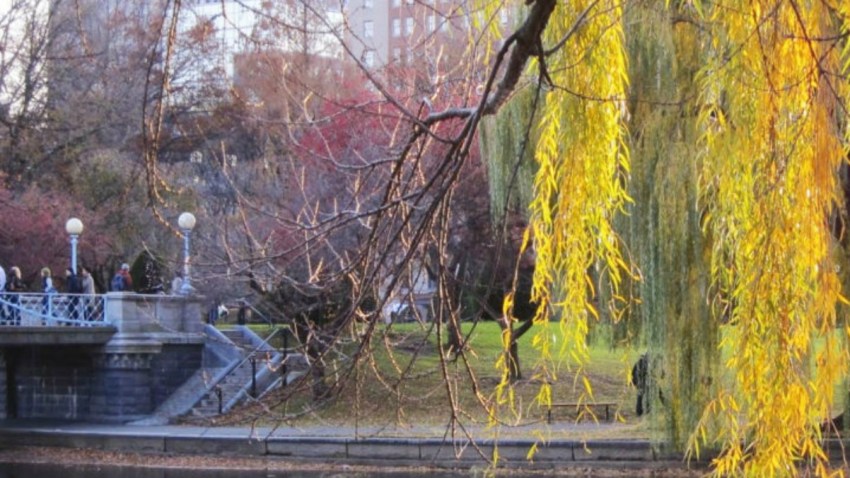 You know that Onion article about "Mr. Autumn Man?" Yeah, that's me. You can keep Summer because Fall is by far my favorite season in Boston. Football is back, you can start wearing multiple players and/or puffy vests, and cider donuts become an acceptable meal for breakfast. For October I found 19 great events to attend, and a lot of them hit the above themes for which I hold so dear. So sit back, grab a cup of mulled wine, and I'll see you out and about — right after I jump into this pile of leaves.
Through October 9 — Open daily at 10 a.m. — Topsfield, Mass. — It doesn't get more Autumnal than this. In its 199th year, the Fair has grown from a simple agricultural showcase into a fried food extravaganza that attracts hundreds of thousands of visitors each year. Although the food stalls and turkey legs are the highlights for me, there are also 4-H competitions for your relatives from the country, adorable animals for the kids, and live music for everyone. Featured acts this year include Cassadee Pope and the Village People. Leave plenty of time for traffic on Route 1. $9.
Local
In-depth news coverage of the Greater Boston Area.
October 1 — 9:30 a.m. — CambridgeSide — All running abilities are welcome at this 5K that takes you around and through Kendall Square, finishing at the mall formerly known as the CambridgeSide Galleria. (When did they change that?) Registration includes a race shirt and, in keeping with the season, beer from Jacob Wirth, and other local breweries. Proceeds will benefit local non-profits. $50.
SoWa's Second Annual Fashion Show

October 1 — 1 p.m. — 450 Harrison Ave. — For the second straight year, the folks behind the weekly SoWa Open Market will help kick off Boston Fashion Week with an outdoor fashion show that will feature SoWa Art + Design District designers and retailers. Two shows will take place at 1 p.m. and 2:30 p.m. on a catwalk constructed on the district's iconic Thayer St. Free.
Official Opening Night of Boston Fashion Week

October 1 — 7 p.m. — Explorateur, 186 Tremont St. — Speaking of Fashion Week, the annual seven-day celebration of Boston style officially kicks off with a party celebrating the 18 designers featured in 2017. The event includes the screening of a documentary short about the featured designers, plus plenty of time to mix and mingle with Fashion Week designers and models wearing selections from their collections. Dress to impress. $18.
October 1 through 4 — City Hall Plaza — Forbes' decision to bring their Under 30 Summit to Boston last year turned out to be a nice feather in the Walsh administration's cap. The event returns to City Hall Plaza — one month before the mayoral election! — and will bring with it more than 6,000 entrepreneurs and investors. Confirmed speakers include Ashton Kutcher, YouTube star Tyler Oakley, and legendary investor Paul Tudor Jones. And the keynote speaker? Some guy named Kendrick Lamar. $595.
October 6 through 8 — Davis Square — Honk! earns its exclamation point by bringing brass bands from all over the world to Somerville for a three-day celebration of music and activism. On Saturday, more than 25 bands will take over Davis Square for one big dance party. On Sunday, local community groups and activists join the bands for a parade from Davis Square to Harvard Square. I dare you to attend one of the performances and not move your feet. Free.
Football Sundays in the Capo Supper Club

October 8 — 12 p.m. — 443 West Broadway, South Boston — Have you been to Capo's newish downstairs event space? The Supper Club, as they call it, is a 4,000 sf subterranean lounge that can only be described as your cool neighbor's finished basement on steroids — a lot of steroids. On NFL Sundays, Capo is taking reservations for tables, high tops, and lounge seating so you can watch football in style. Best of all, won't need to raid a liquor cabinet; Capo will stock a mini-fridge to your liking. To reserve, email jen@caposouthboston.com.
October 8 — 11 a.m. — lululemon Prudential — Parkour punctured the Zeitgeist in The Aughts, most memorably in the opening scene of "Casino Royale" and even "The Office." If you've ever wanted to try it for yourself, head to lululemon Prudential where the folks from Project Freerun will lead a one-hour introductory course. Leave the flip-flops and jeans at home, and try not to pull an Andy Bernard. Free.
October 14 — 5:30 p.m. — Brooklyn Boulders– If you are not interested in unlimited samples of new craft beers, than you should definitely keep scrolling. The Somerville Brew n' Chew will offer up more than 100 different brews, plus free food samples and live music. And it all takes place in in Brooklyn Boulders one-of-a-kind space in Somerville. $45.00
October 14 — 12 p.m. — The Harp — Summer is great for patio drinking, but for my money Fall is the best drinking season in Boston. (Don't @ me.) The folks at El Tour events apparently agree and have organized an aggressive 15-stop bar crawl that starts at The Harp and (hopefully) ends at the Wild Rover next to Quincy Market. Your ticket includes a t-shirt but doesn't cover bail, so drink responsibly. $15.00
Take A Bite Out Of Cyber-Bullying

October 18 — 6 p.m. — Towne Stove and Spirits, 900 Boylston St. — If you follow private chef and author Jen Royle on Twitter, you've probably noticed that her trolls have no problem cyber-bullying from the safety of the keyboard in their parents' basement. (Click through the #SliderQueen hashtag for way too many examples.) On October 18, Royle will use her culinary skills and celebrity to raise money for cyber-bullying prevention by cooking up — you guessed it — gourmet sliders. No one has ever accused Royle of not having a sense of humor. $25.
Boston Public Market Harvest Party

October 19 — 5:30 p.m. — Boston Public Market — The Boston Public Market's second annual Harvest Party is the ultimate celebration of local food and cocktails. The evening includes a Chef's Table cooking competition and a Market Party where you'll be able to explore the market and sample its vendors behind closed doors. All proceeds from the evening will benefit the Boston Public Market Association's mission to create opportunity for New England farmers, fishers, and food entrepreneurs. $50.
October 21 and 22 — 7:45 a.m. — John W. Weeks Bridge, 953 Memorial Drive, Cambridge — Since 1965, the Head of the Charles has welcomed the world's best crew teams to the banks of the Charles River for the ultimate two-day rowing competition. Even if you don't know your Coxswain from your Stroke Seat, the Regatta is one of Boston's signature events, right up there with Marathon Monday. One of the best spots to watch and socialize is always Reunion Village, located between the Weeks and Anderson bridges on the Boston side of the river. Free.
Renegade Run Obstacle Course Race

October 22 — 9 a.m. — Wompatuck State Park, Hingham — If you're not quite ready for "American Ninja Warrior" but also sick of hearing your finance bro friends talk about their Tough Mudder war story, I've got just the race for you. The Renegade Run spreads 25 obstacles out over a scenic four-mile running route through beautiful Wompatuck State Park. The obstacles, including monkey bars, walls, and tunnels, are meant to be challenging but attainable for everyone. Post-race activities include a beer tent, food truck festival, and live music. Proceeds from the race will help fund research to find a cure for type 1 diabetes. $80.
October 27 — 4 p.m. — Seaport World Trade Center — Celebrate Octoberfest in style in the Seaport with truckloads of Sam Adams beer, food, and live music from the Mighty Mighty Bosstones, Kongos, and City of the Sun. While there take a ride on the Hops Slide, play some lawn games, and watch beer lovers compete to see who can Hoist the best Stein. $45 and $85.
Brighton Main Streets 2017 Annual Gala

October 27 — 6 p.m. — Warrior Ice Arena, 90 Guest St. — Find out what's Hot and what's Cool in Brighton at Brighton Main Streets' annual gala at the Boston Bruins' still-gleaming practice facility. Tickets include a small plate-style dinner and a cash bar, plus an auction with prizes at all price points. Guests will also have the option of lacing up and skating on the Bruins' oval from 8-10 p.m. $75.
Brooklyn Brewery Mash Beer Mansion

October 27 and 28 — 6 p.m. — Boston Center for the Arts — The fine folks from Brooklyn Brewery are building a Beer Mansion in the South End, and you're invited. Beer Mansion residents will have access to unlimited beer tastings while they explore five themed tasting rooms, including "The Anatomy of a Beer" where Brooklyn Brewery's seasonal beer, Kiwi's Playhouse, is featured. Food options will include noshes from Roxy's Grilled Cheese, Pennypacker's, and Tenoch Mexican. Other surprises include hands-on art creations with chef Andrew Gerson and live music from Spirit Ghost, Black Beach, and Today Junior. $50.
10th Annual Great Pumpkin Fest

October 28 (three sessions) — 1 Kendall Square, Building 100 — I don't slap my "Must Do" label on many things, but Cambridge Brewing Company's annual Great Pumpkin Fest is one of the best events of the year and you really need to check it out. Tickets include delicious snacks and pours of Great Pumpkin Ale and other CBC favorites. While the two afternoon sessions are fun for daytime drinking, the nighttime session is the one to see. That's when CBC monks conduct the sacred "Pumpkin Processional," which involves marching a a giant beer-filled pumpkin into the courtyard and tapping it for all to enjoy. Halloween costumes are encouraged. $30.
Central Scare at the Central Flea

October 29 — 11 a.m. — 95 Prospect St., Cambridge — Central Scare offers an opportunity to celebrate both Halloween and the last Central Flea of the 2017 season. This one will be their biggest flea market yet, featuring 160 vintage and antique dealers, artists, designers and food trucks. They'll also have free treats, live music, pumpkin painting, and a costume contest. Vendors will also be competing for best costume, booth decor, and decorated food truck. Free.
Copyright Boston - BostInno