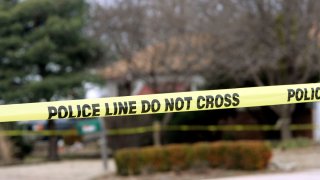 A man fired a gun at a dog on Monday in Manchester, New Hampshire, leading to a standoff and two arrests, police said.
Both of the men resisted arrest, according to police, and one faces charges including being a felon with a weapon, Manchester police said Tuesday.
The shooting was reported about 4 p.m. on Merrimack Street near Hall Street, police said. A witness identified a man standing near a parked car on Merrimack Street as the shooter, but when officers went up to him, he headed into a building, ignoring the officers' orders.
Police surrounded the building and told the people inside to come out. They said that Ayden Rainer, 29, didn't cooperate and tried to walk away from the building, and was arrested on a charge of resisting arrest.
Curtis Massey, 25, was found hiding on the second floor in a vacant apartment, with a gun nearby. He faces charges of being an armed career criminal, falsifying evidence, being a felon with a dangerous weapon and resisting arrest.
It wasn't immediately clear if either man had an attorney who could speak to the charges. Anyone with information about what happened was asked to call Manchester police at 603-668-8711.