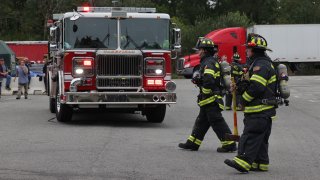 Three people were taken to the hospital from an incident in Wakefield, Massachusetts, local firefighters said, though it wasn't immediately clear what sent them there.
Firefighters and other first responders were seen at Audubon Road, at a building across from the Colonial Point apartment complex after 11 a.m.
The people were hospitalized as a precaution, according to the Wakefield Fire Department, and no one was hurt. A total of 80 people were evacuated.
The cause of the incident remained under investigation Monday afternoon. Fire officials said they'd provide more information later.