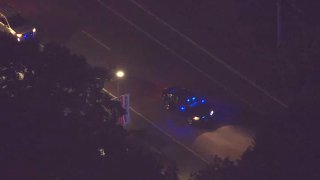 A couple riding a Harley Davidson motorcycle died in a car crash Monday night in Stoughton, Massachusetts, according to the Norfolk District Attorney's office.
Al Pedro, 50, and Aldina Pedro, 51, of Stoughton, were riding northbound on Washington Street, or Rte. 138, when they collided with a Toyota Corolla that was traveling southbound shortly after 8:30 p.m. The couple was pronounced dead on scene.
The driver of the Corolla was a man in his early 60s, whose name was withheld. He was taken to a local hospital for evaluation.
Police believe the crash occurred in the northbound lane based on preliminary investigation, but noted that the crash reconstruction and analysis report is not complete.
The crash occurred in the area of 1317 Washington Street. Police said around 10 p.m. that part of Washington Street was closed with southbound traffic being diverted to Plain Street and northbound traffic being diverted to Morton Street.
The Norfolk County District Attorney's office, Massachusetts State Police and Stoughton Police are investigating. No charges are in place at this time.
No further details were immediately available.