Two men have escaped from a truck that plunged into a frozen pond early Sunday morning in Massachusetts.
Walpole Police Chief John Carmichael says the pickup truck somehow "slid off'' Oak Street and crashed into a nearby pond.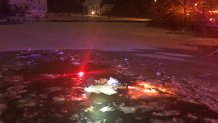 The truck was submerged in about 10 feet of water and both men had to escape through a window, he said.
The two men were taken to the hospital to be treated for hypothermia.
Miguel Zialcita, who lives next to the pond, said his wife woke up to the sound.
"When she saw it it was barely visible and by the time she woke me up they were able to pull it up partly," Zialcita said. ""If I were to fall in there, I'd freeze instantly, so I'm glad they got out and hope they're recovering."
Local
In-depth news coverage of the Greater Boston Area.
A tow truck operator was eventually able to recover the pickup from the pond, who had to employ a dive team to get the truck out.
Copyright AP - Associated Press