Boston police are asking for the public's help identifying a suspect in an armed robbery of a phone store in the city's Jamaica Plain neighborhood, one of two such incidents just this week.
Police released several photos of the man who allegedly pulled a knife while robbing the Cricket Wireless store, located at 306 Centre Street, around 4:35 p.m. Thursday. He's described as bald with a goatee, wearing a black hooded jacket with a gray stripe across the chest, dark pants, and black shoes.
Emmanuel Sanchez says he had little time to react when the man pulled two knives on him while he was at work Thursday afternoon.
"He like, 'don't do nothing stupid, don't act brave, just give me all the money, open the register,'" Sanchez recalled.
According to Sanchez, the man walked in the store and asked to buy a charger for his phone, but when it came time to pay for the item, the man allegedly leaned down and then sprinted around the counter with two knives.
Sanchez says he backed away as the suspect raided the register.
"I feel like it was kind of a joke, but after two seconds you are like this is not a joke, you know. My life is at risk," he said.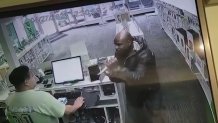 Sanchez says the man then asked for his wallet. The suspect reached in and grabbed what he had -- $15.
Local
In-depth news coverage of the Greater Boston Area.
But Sanchez claims the man then laughed and gave him back his money before leading him into a back bathroom and telling him not to move for five minutes.
The incident comes just one day after another cell phone store down the block was also robbed -- again by a man with two knives. In that robbery, the suspect punched a worker. Employees at the store say the victim suffered a concussion.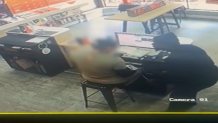 Last month, another cell phone store was targeted in the area, as well. During that incident, employees say a man was trying to sell a pair of shoes before he pulled a gun and demanded money.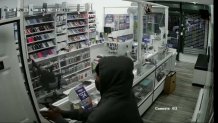 Anyone with information is asked to call detectives at 617-343-5628. Anonymous tips can be called into the CrimeStoppers tip line at 1-800-494-TIPS or texted to CRIME (27463) with the word 'TIP.'