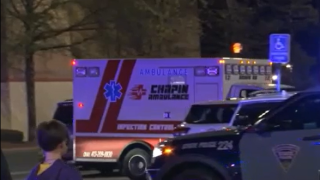 A 23-year-old man was charged with murder Monday morning in the deadly shooting at a shopping mall in Holyoke, Massachusetts, according to prosecutors in Hampden County, who also identified the man who died.
Kenneth Santana-Rodriguez, who is from Springfield, was also charged with assault and battery with a deadly weapon following the shooting Saturday at the Holyoke Mall, according to a news release from the Hampden District Attorney's Office.
The man who was fatally shot was identified Monday as Trung Tran, a 33-year-old from West Springfield.
In a statement, prosecutors said that the Holyoke Police Department got several emergency calls about an "active-shooter event" at the mall, which they said happened at the Touch of Beauty Hair & Nail Salon within the mall.
Law enforcement was informed of an armed person, prosecutors continued, saying that officers encountered the man who had a gun and was taken into custody.
When police entered the salon, officers found a man who was hurt and ultimately died on scene from his injuries, authorities said.
The man killed was reportedly "attending" to Santana-Rodriguez, when another person who was known to him walked into the salon, prosecutors said. That's when a confrontation began between Santana-Rodriguez and the other person, which escalated into a shooting, authorities said. The victim was shot during that confrontation, the DA's office said.
The investigation remained underway Monday into the fatal shooting. It was being conducted by several agencies, including the Holyoke Police Department, Massachusetts State Police Detective Unit assigned to the Hampden DA's Office and the Hampden District Attorney's Office's Homicide Unit.
At Santana-Rodriguez' arraignment in Holyoke District Court, he was held without bail. He's due back in court Feb. 27, prosecutors said.