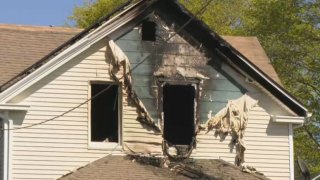 A second person has died after a fire broke out Thursday at a house in New Bedford, Massachusetts.
Firefighters arrived at the home on Chestnut Street around 1:40 p.m., finding flames showing from the upper floor. One man was taken to a hospital and pronounced dead, while three other people were taken to the hospital, including a woman who was in critical condition.
Friday evening, the office of Massachusetts Fire Marshal Peter Ostroskey announced that another victim had died.
The victims were identified as 78-year-old Radames Lopez Mendrez and 79-year-old Eneida Gonzalez Mangual.
"On behalf of Mayor Jon Mitchell and the New Bedford Fire Department, I want to offer our most sincere condolences to this family at a time of such terrible loss," New Bedford Fire Chief Scott Kruger in a statement shared by the fire marshal's office. "This was the second fire in three weeks to claim two members of our community, and our hearts are with all the loved ones who are grieving today."
"More than 85% of this year's fire deaths took place at home," Ostroskey said. "In addition to working smoke alarms on every level of the residence, every household should have a home escape plan. Take some time this weekend to create a plan with two ways out, and practice both of them so you know what to do and where to go in an emergency. Remember that older adults face the greatest risk of death or serious injury in a fire and may need assistance getting out quickly."
Ostroskey's office said that the cause would remain undetermined, but that no evidence was found that the fire was intentionally set, explaining that the potential factors in its ignition were accidental.
Local
In-depth news coverage of the Greater Boston Area.