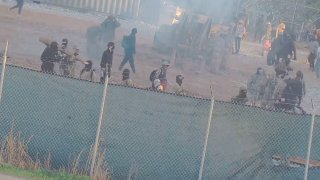 Several people from New England were arrested on domestic terrorism charges after protesters attacked the site of an under-construction police training center outside Atlanta Sunday.
In total, 23 people were arrested and charged with domestic terrorism. Demonstrations against the facility have stretched on for months, leaving one protester dead in January.
Sunday's incident began when a group of people who were attending a music festival not far from the new public safety center, dubbed by protesters as "Cop City," left the event and moved toward the construction site, according to police. Almost 150 people descended on the center, NBC affiliate 11Alive reported.
Atlanta police say the group entered the construction area and began throwing large rocks, bricks, Molotov cocktails and fireworks, and video released by the department shows the alleged rioters throwing fireworks at officers and setting construction vehicles and a trailer on fire.
"Actions such as this will not be tolerated. When you attack law enforcement officers, when you damage equipment, you are breaking the law. And this was a very violent attack that occurred this evening. Very violent attack. This wasn't about a public safety training center, this was about anarchy and this was about the attempt to destabilize," Atlanta Police Department Chief Darin Schierbaum said.
Three people from Massachusetts were arrested: Ayla King, 18; Alexis Paplai, 48; and Timothy Bilodeau, 25. Also arrested were Colin Dorsey, a 42-year-old from Maine, and Emma Bogush, a 24-year-old from Connecticut.
Local
In-depth news coverage of the Greater Boston Area.
Protesters said officials used excessive force to arrest some who were not involved.
At the center of it all is the Atlanta Public Safety Training Center, an 85-acre facility that officials say will help community policing, but environmental activists and anti-police protesters say will do the opposite.
"Ninety acres of the forest are going to be destroyed right away to build 'Cop City' so we see this as a further militarization of the police that's going to be used against the community and move against movements that want to stop police violence," Community Movement Builders Executive Director Kamau Franklin said.
Sunday's confrontation is the latest flashpoint in a fight that's stretched for over a year.
In January, a protester was killed and a Georgia State Patrol Trooper was injured. Demonstrators said the protests have just begun.
NBC/The Associated Press