Police have taken three people into custody Wednesday afternoon in Sterling, Massachusetts, after a chase that began in New Hampshire after an armed robbery.
The chaos started in Londonderry, where an AT&T store was robbed, according to police. It ended outside a day care center in Sterling.
Massachusetts State Police said troopers joined the pursuit after the Boxborough Police Department first began chasing the suspects in Massachusetts.
Police say they stopped the chase after reaching busier streets. The car was ultimately found abandoned at the Little Ones Child Care center on Leominster Road. At least one of the suspects was arrested on nearby Meetinghouse Hill Road. In total, three suspects were apprehended.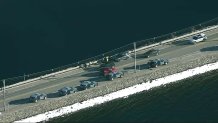 Aerial footage also showed several state police cruisers along Route 12 over the Wachusett Reservoir in neighboring West Boylston. The department said the Massachusetts State Police Marine Unit was looking for "possible evidence that may have been discarded by the suspects while fleeing" in a body of water in West Boylston.
"I saw some guy pulled over on the side of the road with his hazards on," said witness Gerald Bourgeois. "Kind of gave me a weird vibe just from the beginning. He was walking out with a sandwich bag and what looked like a couple of plastic bags."
Local
In-depth news coverage of the Greater Boston Area.
Bourgeois says he saw a man dump bags into the Wachusett Reservoir in West Boylston.
None of the suspects were identified Wednesday night. Authorities said they were brought to the state police barracks in Leominster.