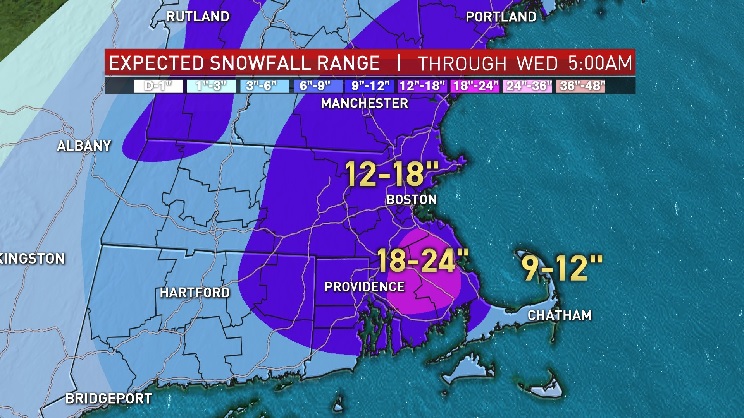 New England's third nor'easter in two weeks has arrived, bringing with it heavy snow, strong winds and another round of damage to a region that is still recovering from the two previous storms.
Mixed snow and rain arrived around midnight and is now falling heavily across Massachusetts.
Local
In-depth news coverage of the Greater Boston Area.
The northern edge of heavy snow is spreading rapidly northward through the morning and midday, while expanding northeast throughout all of New England. Winds have picked up noticeably from the northeast and crank through the afternoon in eastern Massachusetts and into the evening along the coasts of New Hampshire and Maine, resulting in blizzard-like conditions.

Multiple power outages are possible on the Upper Cape, where the snow will be pasty and the winds will gust over 50 mph, but for many, outages will be scattered, helped by a lighter snow consistency but hurt by damaged limbs from the last storm and a gusty northeast wind.
For most, snow won't appreciably taper until evening, and some of northern New England will continue snowing through Tuesday night into Wednesday with a widespread 12 to 18 inches east and lesser amounts west, except in mountains. Minor coastal flooding is possible mid-morning Tuesday in typically vulnerable spots.
Cool conditions prevail through the end of the week behind the storm with continuing snow bursts in the mountains, though the weekend will hasten melting ahead of another possible storm early next week in the exclusive Early Warning Weather 10-day forecast.