The remnants of Tropical Storm Fred brought torrential rain and severe weather to New England Thursday morning, prompting flash flood warnings and tornado warnings across the region.
Fire crews evacuated 78 residents from Bear Mountain, a nursing home in Sudbury, by Thursday night. A roof that had been under repair was leaking, leaving the building uninhabitable.
Three people fire officials say were in critical condition before the incident were taken to area hospitals for additional care.
In Worcester, multiple drivers found themselves in trouble after their cars became submerged on a flooded Route 20 Thursday morning.
Firefighters had to rescue four people, including one person who told NBC10 Boston that the water just suddenly came up.
Three cars were submerged on one side of the bridge, with a fourth submerged on the other side. The drivers who needed to be rescued were visibly shaken up.
The area is said to have four drains for the underpass that are each 12 inches in diameter. There was too much rain and too much water flowing from the surrounding area onto the particular section of Route 20, causing the drains to "spit back up."
Robert Adams' minivan was no match for the rising flood waters on Cambridge Street.
"We thought it was a big puddle and thought wrong," said his daughter, 12-year-old Kelsey Crowley.
"She conked out halfway through," said Adams. "It just became too deep and the air intake sucked up water instead of air."
Crowley said she felt the water and mud rising inside the minivan and they knew they had to act quickly to get out.
"I was like, 'Oh, OK, we need to get out of here, because this car's going to sink," said Crowley.
"We opened the windows and climbed out, and she got on my back," said Adams.
"In about 20 minutes, the whole van was just covered, you couldn't see a single part of it," Crowley said.
In Westboro, Route 30 at Route 9 was closed for a short time due to flooding. Drivers were encouraged to seek an alternate route before the area reopened.
Pictures posted by the fire department showed firefighters up to their knees in water.
There was also significant flooding in Oxford, where drivers were urged to avoid the area of the police station because the road was underwater due to significant flooding, police said on Twitter.
And the flooding carried over to Worcester where the parking lot of the Big Y grocery store was flooded.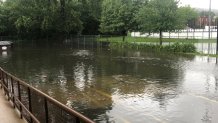 And one man joked the area received "a little bit of rain," sharing a video on Twitter showing someone kayaking -- yes kayaking -- down Sever Street.
Flooding was also reported in Newton, where at least one car could be seen partially submerged in the middle of a street that looked more like a river.
But flooding wasn't the only problem Thursday. There was a traffic alert issued in Wellesley, where police said Wellesley Ave. was temporarily closed between Oakland Street and Brookside Road due to a downed tree.
Crews from Wellesley Municipal Light Plant were going to remove the large tree that fell onto power lines when a storm rolled through the area.
There were flash flood warnings and watches across New England, including Connecticut where storms brought heavy downpours, causing localized flooding in parts of the state and issues on the roads.
Eversource was also reporting nearly 1,500 power outages, with more than 450 of them in Thompson, where a likely small tornado went though. Pictures showed tons of trees and power lines down after radar showed debris being picked up in the area of Route 12 and Wilsonville Road around 10:15 a.m.