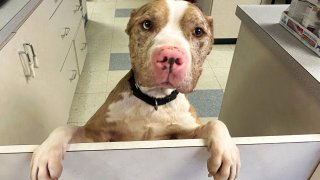 The Animal Rescue League of Boston's Brewster Animal Care and Adoption Center is caring for a 4-year-old dog that was likely abandoned and found in emaciated condition in a neighborhood in Barnstable, Massachusetts.
The dog was found by a resident on Mariner Circle in Barnstable's Cotuit neighborhood and was initially taken in by Barnstable Animal Control before being transferred to the Animal Rescue League's Brewster facility.
The dog, which has been named Little Man by shelter workers, had reportedly been seen around the Cotuit neighborhood but wasn't owned by anyone who lived in the area. The dog wasn't wearing a collar or ID tags and was not microchipped.
The Animal Rescue League believes the dog was abandoned. When he was found, they said he was underweight to the point of emaciation, ravenously hungry and had a very dirty and unkempt coat.
During his 7-day stray wait period, no owner came forward, and after several weeks with local animal control he was brought to the Animal Rescue League's Brewster facility, where he underwent a veterinary exam and is scheduled to be neutered before being put up for adoption.
Already, Little Man has put on about five pounds, the Animal Rescue League said. They said he is "incredibly friendly, loves attention, and is well-mannered."
The dog is not yet ready for adoption, but could be made available as soon as this week.