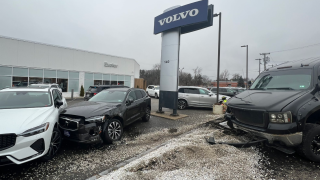 Five new cars, still on the dealership lot, were damaged Wednesday in Exeter, New Hampshire, when a pick up truck jumped a curb and caused a chain reaction crash, according to the town's police department.
The truck was headed south on Portsmouth Avenue Wednesday when it jumped the curb near the Volvo Cars of Exeter dealership, according to the Exeter Police Department.
Police responded to the dealership just after 2 p.m.
The truck hit one car, which was pushed into a second car, police said. Then, the truck continued and hit another car, which created a "domino effect" involving another two vehicles on the lot, police said.
In all, five new cars were damaged, in addition to the truck, officers added.
The driver, who police only identified as a man, was not seriously hurt. He was taken to Exeter Hospital by the Exeter Fire Department to be evaluated.
No customers or employees were injured during the wreck, the town's police chief added.