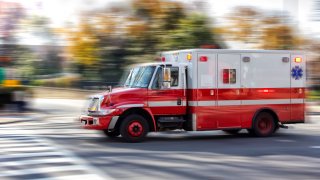 A young boy who was outside playing with his family on Saturday is now fighting for his life after he was struck by a vehicle while crossing the street in Foxboro, Massachusetts.
Foxboro police said they were called to Central Street around 11 a.m. for a crash involving a pedestrian and found a 5-year-old boy suffering from serious, life-threatening injuries. The child was taken to Hasbro Children's Hospital in Providence, Rhode Island. There was no immediate update on his condition.
According to police, the boy is not from Foxboro but was visiting family at a nearby home. The child was hanging out with his older cousins when they crossed the street to play with some other kids in the neighborhood. The 5-year-old, who was trailing behind them, attempted to cross the street to follow his cousins, at which point he was hit by the passing car.
Police say the area where the crash occurred is a straight section of two lane roadway and there are no crosswalks around.
The driver remained on scene and has fully cooperated with investigators, police said. His name was not released but police identified him as a Foxboro man and said he was not injured.
A preliminary investigation has revealed that speed was not a factor in the crash, which remains under investigation.
The Foxboro Police Department said its thoughts are with the family of the young victim, as they wish him a full recovery.
Local
In-depth news coverage of the Greater Boston Area.
Walpole police and the Norfolk County District Attorney's Office assisted Foxboro police on scene.
No other information was immediately available Saturday. An investigation is ongoing.