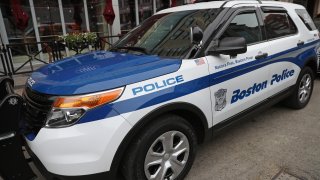 Police in Boston have arrested a man after he allegedly robbed a bank in the city's Dorchester neighborhood on Monday, according to a news release from the department.
Officers responded Monday afternoon, at around 1:15, to a radio call for a robbery at a Santander Bank on Columbia Road in Dorchester, according to the release from the Boston Police Department.
The alleged robber walked into the bank, approached the counter and then slipped the teller a note demanding money, police said, adding that the man did not show a weapon. The suspect got away with an unknown amount of money, according to authorities.
Police have identified the suspect as David Laffey, 60, of Watertown.
Authorities arrested Laffey, who is now being charged with unarmed robbery. He's expected to be arraigned in Dorchester District Court.