A 65-year-old man with dementia has been reported missing from the LGH Saints Camp in Lowell, Massachusetts on Wednesday morning.
According to Lowell police, the man, identified as Ricardo Gamez, has gray hair and was last seen in a gray/black zip-up sweater.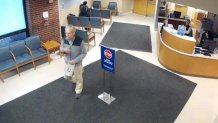 He is believed to have boarded the train from Lowell to North Station at 10:15 a.m. and arriving at 11:15 a.m.
Please contact the Lowell Police Department if you have any information.