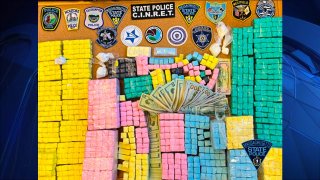 Eight men were arrested by Massachusetts State Police in what they described as a "long investigation" into drug trafficking in the western part of the state.
Multiple kilograms of fentanyl and cocaine, three firearms and more than $100,000 in cash were seized by authorities.
The men arrested were identified as:
Josue Figueroa, 29, of Springfield
Robert Bigio Sr., 60, of Springfield
Robert Bigio Jr., 34, of Springfield
Alexander Rodriguez, 33, of Holyoke
Emmanuel Montano, 38, of Springfield
Heriberto Escalera, 34, of Springfield
Christopher Bermudez, 29, of Holyoke
Aneudy Lopez Santos, 40, of Holyoke
"Dismantling these organizations that import death onto our streets is a priority of the Massachusetts State Police and our partner agencies," said Interim Colonel John Mawn Jr.
Massachusetts State Police say the Springfield Metropolitan Area is a source of supply for large-scale narcotics trafficking in Western New England.