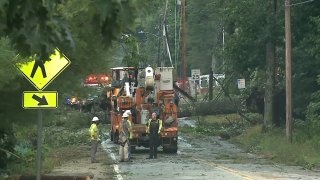 A 9-year-old girl was killed by a falling tree Thursday as severe thunderstorms swept through Maine.
The Cumberland County Sheriff's Office says the girl, a native of Poland, Maine, died after a tree fell on a car at the Sebago Lake Campground in Standish. The victim was trapped inside the vehicle.
Authorities did not publicly identify the child, who was pronounced dead at the scene. Her family was camping at the site when the incident occurred.
The sheriff's office said the emergency response was complicated by road blockages in every direction.
The storms not only leveled trees, but knocked down utility poles in the area.
Radar estimated winds from these storms were around 70 mph.
"For the family left behind to grieve this unimaginable loss, words cannot describe the devastation of losing a child," the sheriff's office said in a statement. "The public safety community offers its heart-felt condolences."