There is a fashion destination in Boston that doesn't advertise, has no signage to lure customers and, well, is actually hidden unless you know where the secret door is.
We won't spoil the surprise, but let's just say the entrance is inconspicuous, yet not too hard to find.
Bodega is an internationally-known shop hiding within an unobtrusive convenience store near the intersection of Clearway Street and Massachusetts Avenue. Once they locate the secret door, customers will find a beautiful display of sneakers and apparel that aren't normally seen in New England.
If you know about cult Japanese brands like Undercover, nonnative and Minotaur, then this is the store for you.
"It's not really main street product," said co-founder Oliver Mak, "so rather than try and explain to the general populous, we just focus on really great things that makes sense for our market and let that lead people here."
Bodega was created in 2006 by Mak and his friends Jay Gordon and Dan Natola as a hub for their efforts in finding and creating unique items around the world. It started out as a sketch on a napkin and has since turned into an internationally-known destination for high-end sneakers and style.
"We ended up making a clubhouse for everything we thought was cool and what we were making," said Mak.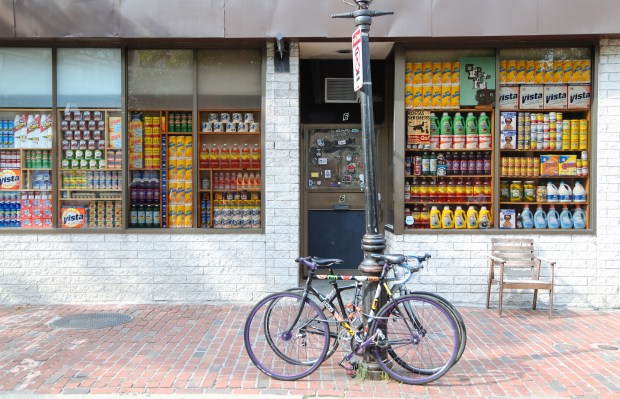 This Boston Convenience Store is Hiding a Sneaker Haven
At the center of it all is the humble sneaker, which Mak said represents an intersection between sports, design, fashion, counterculture, and music. Bodega carries obscure products that bring in collectors and collaborations with brands like Adidas, Vans and Reebok that have enterprising "sneakerheads" lining up down the street.
For those out of the loop, sneakerheads are collectors obsessed with finding limited-edition, rare, and valuable sneakers. Some of these shoes can be resold for huge profits and that business has turned many into millionaires.
The convenience store that hides their main business actually sells products and necessities for customers. This fits the theme of their store, since a "bodega" is East Coast slang for minority-owned corner shops that usually serve as the center of a community.
"Not everybody needs high end fashion imported from Japan, but everyone might need toilet paper," said Mak. "I thought that was a nice metaphor for everything we do here."
That may be true, but look closely at some of the products on their shelves, like their laundry detergent and cereal. You might notice that they have been given their own "Bodega" artistic treatment.
Bodega has seen much success at their shop and through online sales, which has lead to expansion to other markets. The team opened up a replica shop in Tokyo, Japan in 2014 and is opening up another location in Los Angeles, California later this year.
Amazing achievements when you consider the fact that these guys opened a hard-to-find store that has relied on reputation and word-of-mouth to attract customers. In the end, it is a dream come true for a group of Boston sneakerheads with deep roots in the city's counterculture."
"We are just normal guys from the neighborhood who were able to make something they really believe in."
Published at 2:37 PM EST on Feb 28, 2017 | Updated at 1:02 PM EDT on Mar 16, 2017