The physical removal of a passenger from a United Airlines flight Sunday has people wondering, what are your rights when an airline forces you to give up your reservation?
The NBC Boston Investigators found that airlines can make passengers give up their tickets, even if the passenger doesn't want to. But the airlines must offer compensation for involuntary bumping, according to the U.S. Department of Transportation.
Airlines can set their own boarding priorities, deciding who gets bumped on oversold flights. Some will bump passengers with the lowest fares first. Others bump the last to check in, even if they met the check-in deadline.
But the bottom line is they can bump passengers even if there are no volunteers.
Cell Phone Footage Shows Man Dragged Off United Flight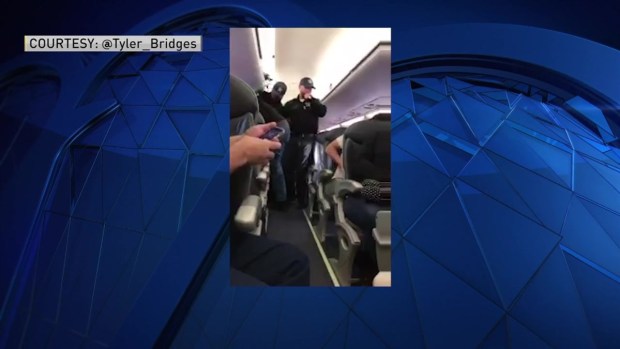 If an airline makes a passenger give up her seat when she doesn't want to, the airline must either make other arrangements or pay the passenger.
Airlines that can arrange another flight to get the passenger to the final destination within an hour of the original reservation are not required to pay the passenger anything.
If the airline can't get the passenger there within an hour of the original flight, then the airline must pay 200 percent of the original fare, with a maximum payment of $675.
If the airline can't get her to her destination within two hours, then it must offer her 400 percent of the fair, with a max of $1,350.
Airlines can negotiate those who voluntarily give up their seats and offer whatever they will accept.
Experts say get to the airport early and allow extra time to help avoid being bumped.
On Sunday, United overbooked a flight from Chicago to Louisville and asked for volunteers to take another flight. When no one agreed, they selected four passengers at random to bump involuntarily.
Three left. A fourth did not. After he would not leave his seat, United called Aviation Police to remove the 69-year-old man.
Passenger videos shared on social media showed three security officers dragging the man out of his seat over an armrest and down the airplane aisle, glasses askew and blood running out of his mouth.
Chicago Police in a statement said "he fell" and "struck an armrest, causing injuries to his face" as security removed him from the plane.
During the ruckus, passengers could be heard on the videos saying, "Oh my God!"
One passenger's video showed the man after he returned to the cabin a short time later, bleeding on the seats, saying, "They're going to kill me."
United needed the space to fly some of its employees.
Chicago Police said the man was transported to Lutheran General Hospital with non-life threatening injuries.
"This is an upsetting event to all of us here at United," airline CEO Oscar Munoz said in a statement. "I apologize for having to re-accommodate these customers. Our team is moving with a sense of urgency to work with the authorities and conduct our own detailed review of what happened. We are also reaching out to this passenger to talk directly with him to address and resolve this situation."
According to the U.S. Department of Transportation, United forced nearly 3,765 people off oversold flights. Another 62,895 United passengers volunteered to give up their seats.