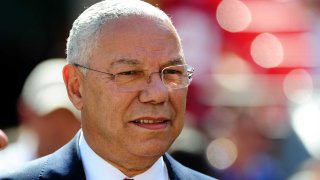 Former Secretary of State Colin Powell died Monday morning due to complications from COVID-19, his family announced in a statement. He was 84.
His family said in a statement the former chairman of the Joint Chiefs of Staff was fully vaccinated and had been receiving treatment at Walter Reed National Medical Center.
Several members of New England's mostly Democratic Congressional delegation reacted on Twitter to the shocking news.
"Marcelle & I are devastated by Colin Powell's untimely passing," Vermont Sen. Patrick Leahy said. "He was a wise, decent & generous spirt. He & Alma were married on the same day that we were and most yrs on that day we'd talk with & tease each other. Our hearts are heavy & our thoughts are w/ Alma & their family."
"After a distinguished career of service, General Powell's final legacy was to put country over party at a time when it was difficult to do so," Rhode Island Sen. Sheldon Whitehouse said of the longtime Republican's decision to endorse Barack Obama in the 2008 and 2012 presidential elections.
"My prayers are with the Powell family as they mourn a great loss," Connecticut Rep. Jahana Hayes said. "Gen. Colin Powell led a life full of service and his remarkable legacy will continue to impact the world."
"I am deeply saddened by the passing of Colin Powell, a wonderful person and an extraordinary public servant," Republican Maine Sen. Susan Collins said. "He dedicated his life to his country, serving decades in the military, rising to the highest leadership position of Chairman of the Joint Chiefs of Staff, & later becoming our nation's top diplomat as Secretary of State. Colin was a compassionate leader who broke barriers and made a real difference for our country. I hope his wife Alma and the Powell family will find comfort in knowing how many Americans have been inspired by his life of selfless service."
"Colin Powell lived a life of service—the first Black U.S. Secretary of State, he was a trailblazer & international leader who worked diligently on behalf of the United States," New Hampshire Rep. Annie Kuster said. "My heart & prayers are with his family & loved ones during this difficult time."
"Colin Powell was the epitome of selfless service, courageous leadership, and uncompromising integrity," Rhode Island Sen. Jack Reed added. "He will be remembered as one of our nation's very finest military and diplomatic leaders. I join RIers & Americans everywhere in mourning his loss."
"Our country has lost a giant," said Rhode Island Rep. Jim Langevin. "Colin Powell was an American patriot, a trailblazer, and a true statesman. He dedicated his life to serving our nation, and that is a legacy that will live on. My prayers are with Alma and their family."
"Colin Powell broke down many barriers during his lifelong service to our nation," Massachusetts Rep. Lori Trahan said. "My thoughts go out to his family during this difficult time."
"Colin Powell goes down in history as a trailblazer and consummate public servant who always put our country first," Rep. Seth Moulton of Massachusetts said. "I have always admired him, even when we disagreed, and as a fellow veteran, I have always aspired—and continue to aspire—to his example of selfless service.
"Colin Powell was a dedicated military leader, a groundbreaking public figure, and a man of deep integrity who committed his life to defending and serving America," Independent Maine Sen. Angus King said. "Our country is better because of his service and devotion. My prayers are with his loved ones."
Both of New Hampshire's Democratic senators also offered their thoughts.
"Colin Powell lived his life in service to the U.S. – as a soldier, diplomat and public servant. His passing is a heartbreaking loss for our nation, and my thoughts are with his family during this tremendously difficult time," Sen. Jeanne Shaheen said.
"Colin Powell was a devoted statesman who believed in the promise of America. I am deeply grateful for his service to our country, and my prayers are with his family today," added Sen. Maggie Hassan.
New Hampshire Gov. Chris Sununu said Powell "embodied the traits of loyalty, strength, and a deep commitment to public service... His legacy and character is one we must remember, and one that we should each seek to emulate in all that we do."
Connecticut Gov. Ned Lamont called Powell "a great American who always put his country first."
Powell was a four-star general who served as secretary of state under Republican President George W. Bush, the first African American to serve in the job.
In 1989 Powell became the first Black chairman of the Joint Chiefs of Staff. In that role he oversaw the U.S. invasion of Panama and later the U.S. invasion of Kuwait to oust the Iraqi army in 1991.
Probably the most controversial moment of his career came before the United Nations in 2003 when he argued before the Security Council the case for invading Iraq. He cited faulty information claiming Saddam Hussein had secretly stashed away weapons of mass destruction. Iraq's claims that it had not represented "a web of lies," he told the world body. The program did not exist.
Powell later told PBS' "Frontline" that the speech was a "blot" on his record.
More national and international news