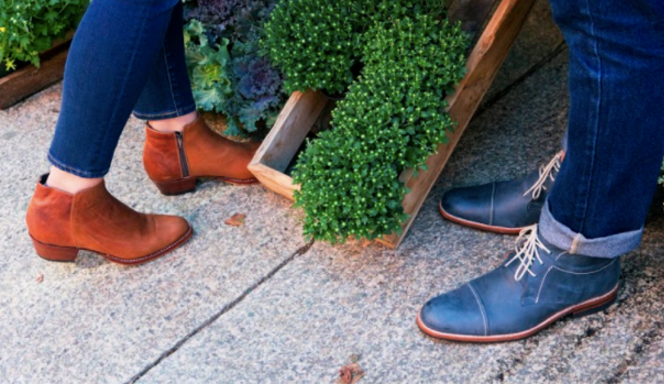 There's a new name in the Boston footwear scene. And if its ongoing Kickstarter campaign is any indication, Adelante Shoe Co. isn't messing around.
"Adelante connects craftsmen and women in Guatemala to the U.S. market and pays them enough to live well in accordance with a new social impact model called the Living Well Line," founder and Massachusetts native Pete Sacco told me. "In return, customers choose from handmade, modern classic shoes at a responsible price point. It's win-win."
Adelante, like all good social impact companies, is being aggressively transparent about its pricing model. In Guatemala, it says, the minimum wage is $10.50 per day. Right now, it's paying workers there $16 a day. In addition to materials ($27) and shipping, packaging and handling ($22), that puts their true cost at $67. Traditional retail would sell shoes of the same quality at around $300; Adelante's are $175.
Local
In-depth news coverage of the Greater Boston Area.
The campaign is only a few days old, but surpassed its goal of $30,000 in 14 hours. Sacco hopes the remaining 26 days will push them even further.
"Our real goal is to change the game," he says. "The more people who contribute, the greater our impact on individual craftsmen and industry standards."
Sacco wants to see the campaign hit $100,000. Along the way, that would unlock two stretch goals: A new men's style, the Imperial, as well as a secret gift delivered to all backers who pledged more than $150.
The shoes themselves are elevated takes on classic silhouettes. There are eight styles in total – four for men and four for women – including boots, wingtips and loafers. If this brings to mind another shoe company with Boston ties, you're not wrong: Kabaccha Shoes brought its take on Italian classics to Kickstarter early in 2015, and ended with almost $500,000 in funding. (They're also back on the crowdfunding platform now, and crushing it, with a second line.)
For Sacco, Kickstarter is just the beginning. He hopes to expand the network of shoemakers beyond Guatemala, scaling production throughout Latin America. He's also working with a professor at Tufts to finalize the Living Well Line, the model he says defines and pays forward the relative cost of living in communities worldwide, getting the best products to the U.S. for a fair wage that suits the workers.
He's got big plans here in Boston, too.
"Depending on the amount we raise, we'll turn out attention to physical market entry into Boston," he says. "We've done a lot of research into running a Bonobos-style shoe truck instead of a brick-and-mortar store."
Images provided.
More stories:
Copyright Boston - BostInno