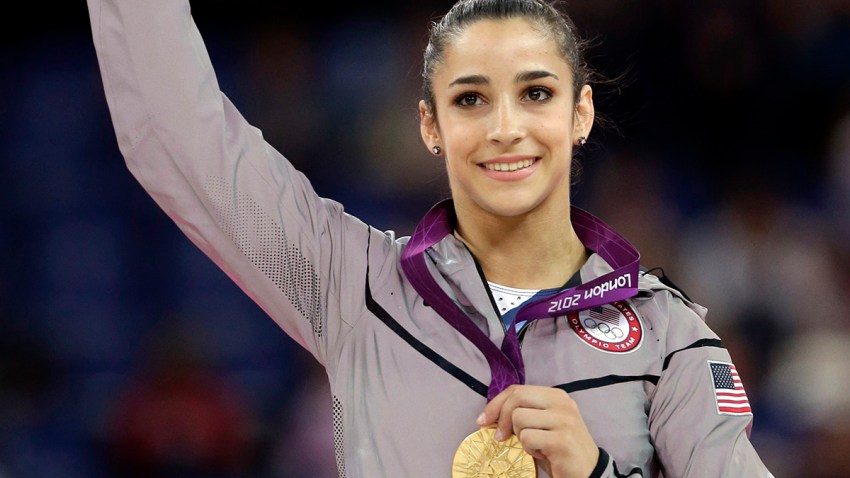 Want to virtually express your feelings via the tears, smiles and backflips of Olympic gold medalist Aly Raisman? There's an app for that, and a Chicago startup is behind it.
The official Aly Raisman app, AlyRaismoji, created by Chicago's Sapphire Apps, debuted on Apple's App Store and Google's Play Store late this week. Already it had risen to #8 in the App store's entertainment category as of Friday, just behind the emoji app for Australian singer Sia, SiaMoji. The $1.99 app comes with a library of 75 illustrated emojis that depict Raisman on the uneven bars, doing backflips on the beam, and twisting mid-air (Raisman herself tweeted the launch of the app accompanied by an emoji that depicts her mid-leap in splits outfitted in an American flag leotard) as well as giving a thumbs up, offering "praise hands" and shedding a few tears.
Raisman is actually the fourth member of the 2016 gold medal-winning USA gymnastics team with her own emojis: Earlier this year Gabby Douglas debuted Gabmoji, Simone Biles launched Simoji, and Laurie Hernandez just released Laurie Hernandez the Human Emoji in December. (No word yet on whether the final member of the Final Five, Madison Kocian, is planning to hop on the emoji train).
Local
In-depth news coverage of the Greater Boston Area.
In fact, custom emoji apps have become a trend among celebrities ever since Kim Kardashian launched Kimoji in December 2015, which rocketed to the top of the Apple's app charts. Celebrities that launched custom emoji apps include Justin Bieber (Justmoji), Steph Curry (StephMoji) to Blac Chyna (ChyMoji).
The trend has provided an opportunity for enterprising app developers to provide development and maintenance of the apps in exchange for shared revenue and promotion of the app on influencer's social feeds. That's the case for Chicago-based startup Sapphire Apps. Run by University of Illinois Chicago alum Thomas Ma and former University of Illinois Urbana-Champaign student Anish Dalal, they partner with celebrities and influencers to develop custom apps. Previously they've worked with chef Fabio Viviani to create Food Porn, an emoji app that features photos of burgers, pies, donuts, burritos and more, as well as Pandamoji, an emoji app designed with DJ Deorro and record label Pandafunk.
In 2015 Dalal started developing apps during an internship at a consulting firm, where he was working on app-related projects. He'd create apps that played off popular keywords and topics at the time (with titles like "Clash of Clan Tactics") which optimized search and keywords to drive downloads, and worked with companies doing app store optimization. He was so successful he dropped out of UIUC (and an ongoing co-op with NASA) to pursue his app business.
However, as the app store has grown more competitive, he decided to explore influencer partnerships as a new method of driving downloads and partnered with Ma, who previously ran career startup College Podium, to launch Sapphire Apps last fall. They outsource development of the app, and currently employ an intern.
So how do you convince an Olympic gold medalist that your app development company is the best? Persistence--and numbers. After weeks of trying, Ma got on the phone with Raisman's agent and used Dalal's past app store success (creating over 500 apps with over 15 million users) to convince them they would be the best company to develop the emoji. Ma declined to share specific revenue splits between celebrities and Sapphire Apps, as he said it varies depending on the celebrity.
Ma and Dalal said they're working on new celebrity apps to be released in 2017, and expanding their offerings.
"We are creating live streaming app, social network apps, merchandise apps, and game apps in addition to our emoji apps which we will offer influencers and celebrities or package as one master app," said Dalal over email.
More BostInno Stories:
Copyright Boston - BostInno