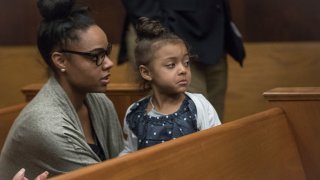 Shayanna Jenkins-Hernandez, the ex-fiancée of former New England Patriots player Aaron Hernandez, is being accused of spending thousands of dollars of money meant for her daughter on personal expenses like online shopping, gym fees and visits to hair and nail salons, according to a Boston Globe report.
Attorney David Schwartz, the trustee of the trust fund set up for 10-year-old Avielle Hernandez, said in court documents that Jenkins-Hernandez spent over $100,000 on various personal expenses. This included $4,800 at Harrods Department store and $3,720 for Bay Path University, a private university in western Massachusetts.
He is asking that Jenkins-Hernandez be removed as Avielle's conservator. If that happens, the new conservator would receive Aaron Hernandez's pension and Social Security checks and would be responsible for deciding how they should be spent.
Jenkins-Hernandez denies the allegations. Her lawyer, Stephen Withers, told the Globe the dispute is "much ado about nothing... Any allegation or insinuation that she's spending money inappropriately or for any other purpose is absolutely false."
Avielle is eligible to access the trust fund money, which currently amounts to about $700,000, as soon as she turns 25.
Aaron Hernandez killed himself in April of 2017 in the prison cell where he was serving a life-without-parole sentence for murder.
He killed himself just a week after he was acquitted in the 2012 drive-by shootings of two men in Boston. Prosecutors had argued that Hernandez gunned the two men down after one accidentally spilled a drink on him in a nightclub, and then got a tattoo of a handgun and the words "God Forgives" to commemorate the crime.
A star for the University of Florida when it won the 2008 title, Hernandez dropped to the fourth round of the NFL draft because of trouble in college that included a failed drug test and a bar fight. His name had also come up in an investigation into a shooting.
In three seasons with the Patriots, Hernandez joined Rob Gronkowski to form one of the most potent tight end duos in NFL history. In 2011, his second season, Hernandez caught 79 passes for 910 yards and seven touchdowns to help the team reach the Super Bowl, and he was rewarded with a $40 million contract.
But the Patriots released him in 2013, shortly after he was arrested in the killing of semi-pro football player Odin Lloyd, who was dating the sister of Jenkins-Hernandez. Hernandez was convicted and sentenced to life in prison.
The Associated Press contributed to this report.