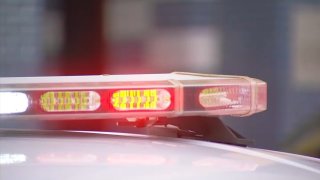 An Acton, Massachusetts, police officer is facing domestic violence charges, accused of shoving his pregnant wife to the ground during an argument.
The Middlesex County District Attorney's Office said Steven Stalzer, 31, of Stow, was charged with domestic assault and battery and assault and battery on a pregnant person. Investigators allege the attack happened around 3 a.m. Monday morning in their home.
If you or someone you know is experiencing domestic violence, contact the National Domestic Violence Hotline by calling 1-800-799-SAFE (7233), visiting www.thehotline.org or texting LOVEIS to 22522.
Stalzer was arraigned in Concord District Court and released on personal recognizance. He was ordered not to abuse the victim and to surrender any weapons.
Acton police said that Stalzer was placed on leave following his arrest Saturday. His license to carry has been suspended and his badge and service weapon were taken. Stow police also removed his personal guns from the home, which they said is standard police procedure when your license has been suspended.
Stalzer has been a member of the department since 2015.