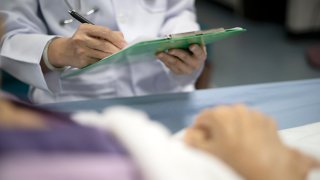 Admissions have been frozen at Life Care Center nursing home in Leominster, Massachusetts, after two residents died and over 80 residents and staff tested positive for COVID-19.
As of Friday, there had been 50 resident COVID cases and 33 staff cases, the state Department of Public Health said. The facility houses up to 133 people.
Life Care Center said in a statement to NBC10 Boston that as of Monday, only four residents and staff members were still testing positive.
"Ninety percent of the residents and staff who recently tested positive were asymptomatic, and none of them have died from the disease," Executive Director Samantha Mague said in the statement. "The three residents still showing positive are being cared for and closely monitored in our facility, while the one remaining positive associate is isolating at home until officially recovering and being cleared to return to work."
An admissions freeze has been in effect at the Leominster facility since Thursday. It is one of 10 long-term care facilities in the state currently under an admissions freeze. The full list can be found here.
The Department of Public Health said a state-supported Rapid Response Team was at the facility from Jan. 20 until Monday and the agency will continue to monitor the outbreak. The team consisted of 10-12 licensed nurses and certified nursing assistants and helped provide clinical care and perform hand hygiene and personal protective equipment audits.