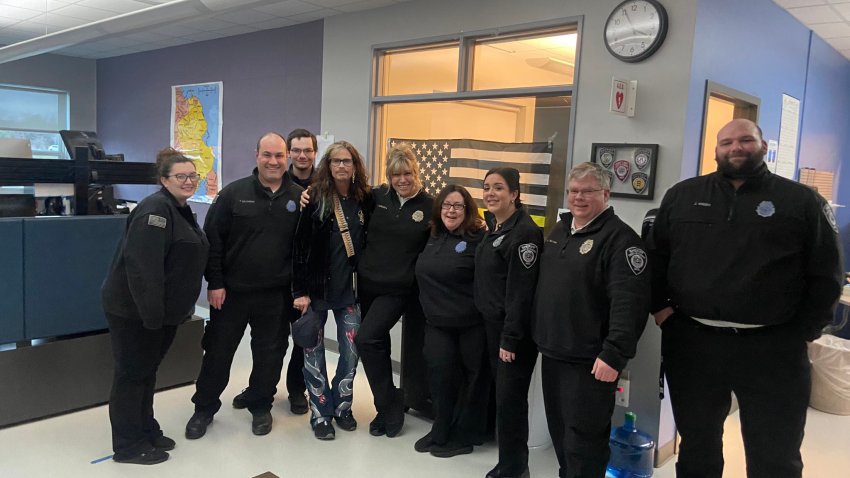 Local first responders got to meet with a local legend this week.
Aerosmith front man Steven Tyler stopped in at the Plymouth County Control, the agency said Thursday, sharing a picture of the singer with dispatchers.
Plymouth County Control helps local fire departments and ambulance companies coordinate when they need help.
Tyler, who has ties to Massachusetts, has visited plenty of South Shore locations in recent years, including Marshfield police this July.
His visit Thursday comes with a spotlight on first responders in the area. Ones in Duxbury have continued to receive counseling for what they saw at a local home where three children were hurt, two fatally, and their mother was hospitalized for a suicide attempt. The mother is facing charges in the deaths, prosecutors have said.
NBC10 Boston learned that first responders from beyond Duxbury who were at the scene have gone to counseling to help process what happened.
"A lot of members responding probably had kids the same age as the ones they were working on," said Rich MacKinnon, president of the Professional Firefighters of Massachusetts.
At a vigil Thursday night, members of Duxbury prayed for both the family at the heart of the killings and the first responders who have helped.
Duxbury Police Chief Michael Carbone issued a letter Thursday thanking the community of Duxbury and beyond for support, and noted that the department has necessary resources to help its staff members.
Plymouth County Control didn't say whether Tyler's visit was related to the Duxbury incident.