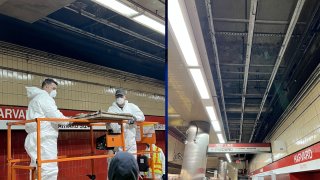 About 100 ceiling panels have been removed from Harvard Station on the MBTA's Red Line less than a week after one fell, nearly hitting a T rider walking on the platform.
Interim MBTA General Manager Jeffrey Gonneville ordered many similar panels to be removed systemwide after the insulation panel fell at the Red Line stop in Cambridge, and the agency shared an update on its progress Tuesday.
Along with the roughly 100 panels removed at Harvard, the MBTA used a weekend Red Line service diversion to inspect panels at Central and Andrew stations, according to the update.
Footage released by the MBTA shows the falling panel dropping directly in front of a passenger, who spoke to NBC10 Boston Saturday about the shocking moment.
"To look back at the footage and see how close it was to potentially falling one me was hard to see," Cianna Navarro said. "At the moment I didn't know what had fallen. I was in such a state of shock. I couldn't really wrap my head around everything until I left the train station and I stopped and went to the sidewalk and just stood there to gather myself."
Gonneville has said the MBTA was "extremely fortunate that there wasn't an injury as a result" of the incident.
The 25-pound insulation panel came down on the southbound platform Wednesday just before 4 p.m.
Following an inspection of the station that found, at least preliminarily, that corrosion from water caused the piece of metal, weighing 20 to 25 pounds, to crash down, panels at stations systemwide will be taken down where they only have an aesthetic use, Gonneville said.
He called it "the most recent example of the work we have ahead of us to bring the system back into good repair."
Asked what he'd say to riders concerned that gaping holes in station ceilings might make them look shabby, Gonneville said, "Anyone that rides our system and knows our system is very familiar with the condition of our system," and added that it's necessary for inspectors to get access to such spaces.