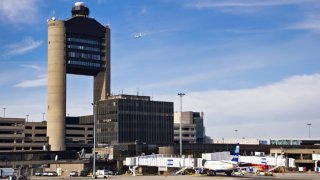 A Delta Air Lines flight bound for Amsterdam was forced to divert to Boston Friday night following a disturbance by a passenger.
Massachusetts State Police said Monday the disturbance was reported onboard the flight from Detroit, Michigan, to Amsterdam, around 8:12 p.m. Friday.
Delta confirmed Flight 134 was diverted to Boston Logan International Airport just before 9 p.m. where the plane was met by law enforcement.
State police confirm they removed one passenger from the plane.
The passenger, whose name has not been released by authorities, was escorted to the public side of security and allowed to gather their luggage, state police added.
Neither state police nor Delta provided details about the disruption caused by the passenger, but the airline said such a diversion is standard procedure in similar circumstances.
The airline released a statement, saying, "We have zero tolerance for unruly behavior on our aircraft and express apologies to our valued customers and crew for experiencing this unfortunate delay in their travels."
Local
In-depth news coverage of the Greater Boston Area.
The flight, an Airbus A330-300, with 282 passengers and crew, resumed its trip to Amsterdam, arriving more than three hours late.
According to state police, the unruly passenger was added to the airline's "no fly" list.
A Mass. State Police spokesperson said Monday that no charges are noted as being pursed by their agency, however the FBI did contact the individual following the incident and it was not immediately clear if they would be pursuing any charges.
The Associated Press contributed to this report.