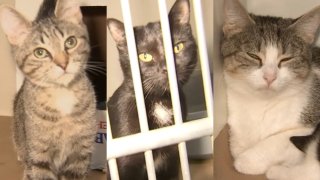 The Animal Rescue League of Boston recently took in nearly 70 cats from two separate recent overcrowding situations in Massachusetts.
Early last week, the Animal Rescue League said its field services team assisted a Norfolk County resident in removing 48 cats from their home. The person had inherited the animals from a close relative and was unable to provide proper care for them. Most of the cats are under a year old.
Once removed from the home, the cats received veterinary care, and many have already been placed into the foster care network until they are ready for new homes.
The second situation involved removing 20 cats from a home in Bristol County. The resident had been working with the Animal Rescue League for several months in an effort to rehome some of the cats, but the resident recently died and the family requested that all of the cats be removed from the home.
Some of those cats are older and will need medical and behavioral evaluations before they can be made available for adoption.
The Animal Rescue League said the two incidents serve as a reminder that anyone who is having trouble taking care of their pets should reach out to them for assistance.
All of the cats are being cared for at the Animal Rescue League's Boston and Brewster locations. They are not currently available for adoption but the agency said it hopes to have them ready to find new homes soon.