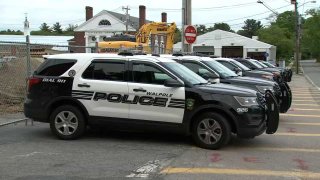 A Massachusetts school didn't follow its own guidance when a 9-year-old special-needs student who is Black was handcuffed by police at school and then taken to a hospital where he was held in an adult unit until he was released to his mother, a civil rights group says.
The group Lawyers for Civil Rights sent a letter to the Walpole public schools and police department asking for an apology for the family and proof of restraint training for school resource officers when dealing with special-needs students. The family is also exploring "all legal options" to hold the school and police accountable.
The boy was having a mental health crisis on Jan. 12, 2023 when, instead of following a prescribed treatment system, staff called the school resource officer who called for police backup, the group said.
In a description of the event posted by Lawyers for Civil Rights, Erika Richmond, an attorney with the group, said in a Wednesday news release that the incident exemplifies the "adultification" of Black children, a form of discrimination where Black children are perceived and treated as older than they are. The boy in this case was described as "big for his age" and "stronger than he looks."
"Because of this bias, a situation that could easily have been de-escalated instead led to a young Black boy being handcuffed and held in adult custody," Richmond said.
Richmond said the student, who has attention deficit/hyperactivity disorder and other needs, also has a history of being afraid of police. So when the police began to surround him, he tried to leave the classroom, which was when he was placed in handcuffs.
The child was taken to an adult psychiatric ward for an evaluation and was released to his mother after it was determined he was not a danger to himself or others.
Local
In-depth news coverage of the Greater Boston Area.
In a statement distributed to media organizations, Walpole Police Chief Richard M. Kelleher confirmed that his department respond to an elementary school in January "to assist staff with a student," but he declined to say more.
Walpole school Superintendent Bridget Gough did not address the issue directly, but said, "Walpole Schools are committed to the safety and education of all of our students, regardless of race or other protected characteristics."
Copyright AP - Associated Press