We have the battle of airmasses right across the northeast on Monday evening. Cold air to the north and more snow filling in across the North Country, mild air to the south and drier.
Monday night, the snow continues to fill in across northern New England, while southern New England stays mostly cloudy with a sprinkle and temperatures around 50.
By Tuesday morning, things get interesting. We have a First Alert for Tuesday for the wintry mix, and another one on Wednesday for the bitter cold to follow.
Timing:
There will be snow across northern Vermont, New Hampshire and Maine and a wintry mix with light icing across the Berkshires, to the Worcester Hills and into central Vermont, New Hampshire and Maine.
Scattered rain heads into Connecticut, while Boston and Providence stay dry around 7:15 a.m. By 10 a.m., rain heads into Boston with a temperature around 50 degrees.
Local
In-depth news coverage of the Greater Boston Area.
The freezing line falls southeast towards Hartford, Worcester and Portland. Snow continues to fall across northern New England and it will be a tricky travel day with slick and snow covered roads.
After noon we will see temperatures crash across southern New England and the precipitation changes to wet snowflakes in Boston and Providence. The snow starts to taper off in Hartford, the Berkshires, Vermont and northern New Hampshire around 2 p.m.
Light snow continues in Boston through 4 p.m. then will taper off from the northwest to southeastern Massachusetts during the evening drive. Watch for ice to develop on roads as our temperatures fall to below freezing for the rest of the night!
TIMELINE: Hour-by-Hour Look at This Week's Storm
Totals:
Tuesday afternoon we will have scattered coatings around Boston and southeastern New England. A coating to 1 inch is expected in the Worcester Hills, 1 to 3 inches to Connecticut, the Berkshires and southern New Hampshire. Central Vermont, New Hampshire and Maine will see about 3 to 6 inches with around 1 foot as you go farther north and across higher elevations. We expect 1 to 3 inches to around 1 inch along the Maine coast.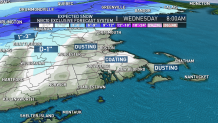 Record Cold:
Bitter cold will follow our precipitation on Tuesday. Temperatures go from the 50s in the morning in southern New England to the 20s by dinner time. The wind will be gusting between 25 and 35 mph from the northwest on Tuesday afternoon through Wednesday morning. This means our windchills will be in the teens Tuesday evening, around zero Wednesday morning, and in the teens Wednesday afternoon.
Wednesday morning lows will be in record territory again for most of New England. The record low in Boston is 14 (1883) and in Worcester it is 15 (1986). We are calling for lows in the teens. Wednesday afternoon may bring us more records with record cold highs in the forecast in the low 30s to mid-20s. The record cold high in Boston is 36 (1874) and in Worcester 32 (2013).
10-Day Forecast:
We dry off for most of the end of the week and our temperatures modify to the upper 40s by Friday. Friday into Saturday we get another shot of cold air and the chance for a flurry up north. Next week looks more seasonable with highs around 50 but also with a chance for rain each day.