New England experienced record-breaking cold as arctic air swept into the region Friday and Saturday, dropping temperatures below zero for millions.
One place laid a claim for coldest in New England: Mount Washington Observatory in New Hampshire's White Mountains, which made history nationwide.
As of about 3 p.m. Friday, the observatory had already hit 36 degrees below zero, breaking the daily record low of negative 32 set in 1963. With wind chills factored in, it feels like the temperature is actually -93.
By Saturday at 7 a.m., temperatures had dipped as far down as -45 degrees, two degrees shy of the lowest ever, with a wind chill that made it feel like -109, a new wind chill record for the United States.
And there's a chance it reached the low-temperature record as well.
One of the residents of the observatory wasn't that impressed with the extreme cold.
Nimbus, the cat who lives 6,288 feet above sea level at the observatory, dozed through the historic weather while the scientists living with him dealt with the brutal weather conditions outside.
"He is actually sleeping through most of this event," meteorologist Francis Tarasiewciz said Friday, one of the weather observers whose job is to get hourly readings in the extreme cold.
Mt. Washington wasn't the only place with bitter cold, as many towns across New England experienced below-zero temperatures in the last day, some of the coldest it's been in years.
Boston, Worcester, Providence and Hartford reached their lowest temperatures ever recorded for the day of Feb. 4: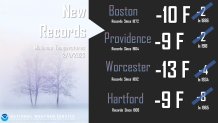 Here's a collection of temperature observations from around the region:
Ashburnham, MA: -20
Sterling, MA: -18
Royalston, MA: -18 (Elevation: 1200 feet)
Ashby, MA: -18 (Lowest Wind Chill -40)
Hubbardston, MA: -16
Spencer, MA: -15
West Townsend, MA: -15 (-14.5 as reported by spotter)
Fitchburg, MA: -15
Lowell, MA - UMASS: -14 (Coldest since 1/22/84, coldest on record - -15 on 1/19/71)
Auburn, MA: -14
Staffordville, CT: -14 (Spotter reports coldest reading since 1/8/18)
North Brookfield, MA: -14
Coventry, RI (EOC): -13
Westford, MA: -13
Burlington, CT: -13
Woburn, MA: -12
Methuen, MA: -12
Swampscott, MA: -12
Salisbury Plains, MA: -12
Bradford, MA: -12 (Wind Chill -26)
Acton, MA: -12 (Wind Chill -37)
West Warren, MA: -12
Sharon, MA: -12
Southwick, MA: -11
Lynn, MA: -11 (Wind Chill -21)
Ipswich, MA: -11 (Lowest Wind Chill -36)
Sutton, MA: -11 (Lowest Wind Chill -34)
Monson, MA: -11
Belchertown, MA: -11
West Roxbury, MA: -11
North Oxford, MA: -11
Cumberland, RI: -11
Southwick, MA: -11
Stoneham, MA: -11
Lexington, MA: -10
Willington, CT: -10
Mansfield, MA: -10 (Lowest Wind Chill: -29)
Webster, MA: -10 (Lowest Wind Chill: -29)
Fall River, MA: -9
East Bridgewater, MA: -9
North Weymouth, MA: -9
Canton MA: -9
Acushnet MA: -9
Simsbury, CT: -9
Marstons Mills MA: -9 wind chill -23
Fairhaven MA: -9 (lowest ever recorded in records kept since 1975)
Pocasset MA: -9
Franklin, MA: -9
Attleboro, MA: -8
West Yarmouth, MA: -8
Warren, RI: -8
Dartmouth, MA: -8
East Taunton, MA: -8 (Second spotter report of -7)
West Falmouth MA: -8 Peak Gust: 45 MPH
New Bedford MA: -8 (Lowest wind chill: -27)
Swansea, MA: -8
Coventry, RI: -7
Stow, MA: -7 (Lowest WInd Chill: -33)
Waquoit, MA: -7
Rocky Hill, CT: -7
East Falmouth MA: -6
Warwick, RI - Conimicut Light: -6
Tiverton RI: -6
Westerly, RI: -6
Fall River, MA - Borden Flats: -5
Woods Hole, MA: -5
Newport, RI: -4
West Tisbury MA: -3