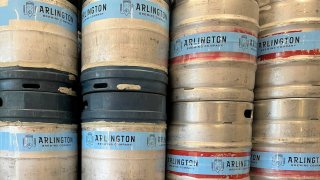 [This story first appeared on Boston Restaurant Talk.]
A new beermaking business has come to the northwestern suburbs of Boston, and it will be hosting waterside beer gardens as it searches for a home.
Based on a Facebook post from Massachusetts State Representative Sean Garballey, Arlington Brewing Company is in the process of getting up and running, saying "Congratulations to @arlingtonbrewingcompany, Arlington's first-ever fully licensed brewery, on their recent commencement of operations. Can't wait to join them and lots of other people at the Res beer garden on June 30!"
The two people behind the brewer--Tom Allen and Matt Guernsey--are currently looking for a permanent space for their brewery, and Sean Garballey's comment about the Res refers to the beermakers having six beer gardens at the Arlington Reservoir on Lowell Street, which will be held on Friday evenings from June 30 through August 11 and which will include live music.
The website for Arlington Brewing Company can be found at https://www.drinkarlingtonbeer.com/
Copyright Boston - Boston's Hidden Restaurants