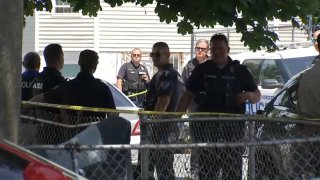 A man was arrested Wednesday after he barricaded himself inside a home in Worcester, Massachusetts, police said.
Worcester Police said it started around 10:39 a.m. when officers tried to execute an arrest warrant for Edward Kloucek, 50, at an address on East Kendall Street. The suspect's girlfriend reportedly told police that he barricaded himself inside, and that he had a gun.
Police attempted to make contact with Klocek and convince him to come outside, but he refused to answer the phone. Officers eventually forced their way into the home and found the suspect in a closet. He was not armed, though there was a rifle in the house. He was taken into custody and new charges are expected.
Police said Kloucek has a lengthy record, including past incidents of barricading himself. The arrest warrants are for what police described as "serious charges."
Several residents of the building were evacuated during the response, which took close to three hours. No one was hurt.
"This is exactly what we want. It's OK to take our time. It took a couple of hours, but this is the result we want, and it's worth taking some time on it," Worcester police Lt. Sean Murtha told NBC10 Boston.
Local
In-depth news coverage of the Greater Boston Area.
This is a developing story. Check back for updates.